---
---
---
Hanna's gift

Hanna Dallos was the voice of

Talking with Angels

. In Hungary, in the middle of the war, she was the one who transmitted this spiritual instruction before vanishing as a victim of the Shoah. She was a vibrant and amusing woman, intelligent and profound, incessantly searching for answers to the great questions of existence. She was also an outstanding pedagogue.
Hanna Dallos, born on June 14, 1907, grew up in a warm family of "Reform Jews" (1). Her father was a broad-minded man, the headmaster for a middle-school for boys. Her mother was a typical Jewish mother of infinite gentleness (SB, II/1). Hanna also had an older brother, Joseph, a brilliant ophthalmologist, who was a pioneer of early contact lenses (2).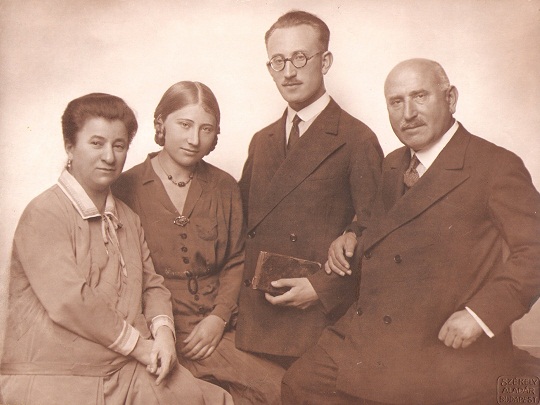 Hanna Dallos and her brother in the company of her parents.
(Courtesy of Dr. Vera Dallos-Pinter)
At the age of 20, she married her first cousin, Joseph Kreutzer (3), who was also a Jew. Hanna was a graphic artist, engraver and painter, and her husband was an artistic designer and handcrafted furniture maker. Having completed their studies, in 1928, the couple settled in a large studio in the hills of Buda overlooking the Danube. Agnostic, sympathizer of the revolutionary regime of Béla Kuhn in 1919, Joseph was a tall thin man with a moustache, quiet and thoughtful, inclined to long silences, a source of strength for Hanna (SB, II/3).
Hanna formed close friendship with a young Austro-Hungarian woman, Gitta Mallasz, whom she met at the Academy of Decorative Arts.

Hanna Dallos and Joseph Kreutzer
(Courtesy of Dr. Vera Dallos-Pinter)
After a period which Gitta dedicated to sports (she became a celebrated national swimming champion), she took up sketching again and joined the couple in their studio. With the resurgence of anti-Semitism in the early 1930s in Hungary, it was Gitta who searched for the means to save the enterprise.
The teaching


Hanna was the life and soul of the studio. According to Gitta, "she had the gift of remarkable concentration; she could gage in a blink of an eye the essence of a project from the conception to its implementation" (TA , p.15). At the same time she could easily solve the most trivial problems. According to Vera Székely, her pupil, "she considered a work of art – even be it common place – as if it was a reflection of the inner psychological state of the artist" (SB, II/4). In fact, her students considered her as a mentor (4) rather than a teacher, because for her the spiritual preoccupations were of fundamental importance. Tao Te King, the Upanishad, the Bhagavad-Gita, the writing of Master Eckart were among the books on her bedside table; she lent these to her students and together they commented on them (SB, II/4). According to Vera Székely, only few could cope with this level of demand and intensity. Others gave up the course (TA 1976, p.15).
But Hanna could also be lighthearted. She was a prankster and liked to imitate people. Dressed up as a traditional peasant girl wearing many starched skirts and behaving as an ill-mannered ingénue, accompanying her mistress (Gitta) to the literary cafés of Budapest, she delivered a biting parody targeting local society (VM, p.31).

The Inspiration


Hanna's subtlety and uncommon sensitivity was soon to be expressed in an unusual way, though to Gitta this seemed quite natural. It happened on the 25th of June1943 at 3 pm in a small house devoid of all comfort where Hanna, Joseph and Gitta had settled to avoid the pernicious atmosphere of the capital. Lili Strausz, who was also Jewish, joined them for the weekend. She was a teacher of calisthenics whom Gitta met while she was active in sports. Driven by their inner compulsions, the four friends got into the habit of heated discussions to bring into sharp focus those horrible times of increasingly widespread totalitarianism. That afternoon, on the 25th of June, Gitta was talking about some commonplace matters of personal concern to her, when Hanna had a blinding vision: she saw two hands snatching the writings of her friend, tearing them up and hurling them angrily to the ground. Then she warned them: "It is not I who will speak to you". Through Hanna's voice, someone gave Gitta a severe warning about her less than serious attitude
(TA, p.21)
.
From that moment on Gitta listened to Hanna's inner voice with the awareness that her friend was a messenger, an instrument. Hanna, herself was "conscious of the presence of someone who talked to Gitta". But at the same time Hanna was fully aware of her own actual presence, and that she was only the vehicle for the words that took shape in her "with surprise and wonderment" (SB, IV/1).




Hanna Dallos
Self-portrait (1930)
Where did these messages come from and who sent them? The four friends named these voices coming from the beyond the "Messengers" before they introduced themselves as angels. These instructions lasted seventeen months; the angels exhorted them to make radical transformations, announcing a new époque: a still pertinent, fiery message of which Hanna was the mediator.
At the beginning, Hanna perceived the meaning of the message and translated it into words. Later, the instructions became more urgent and more rhythmic, and she only repeated what she heard inside, and faithfully transmitted the words while ignoring their meaning; including words of a language that wasn't her own. Thus, one day when they were working on a poster, Hanna suddenly put down her brush and said to Gitta: "I hear German words, they are addressed to X. Note them down". Hanna spoke German, but did not understand all its subtleties. It was Gitta who translated the unknown words into Hungarian and analyzed their significance (SB, annex 1 ; AE, p. 150 ;
Morgen
).
As these meetings progressed, Hanna developed an extraordinary sensitivity receptive to the vibes of the angels with the same intensity she felt for human suffering (DA 1990, p.74). Of the tormenting heartache which made her suffer (TA), she simply said: "These aren't physical pains. I sense that, perhaps, people never felt so much suffering as in this moment" (AE, p.219). At a conference in Zurich at the Paulus Academy on the 9th of November, 1985, Gitta Mallasz said of her: "Her capacity for concentration was exceptional. Hanna was present simultaneously in the 'created world' AND in the 'creating world'. She gave us access to another dimension. She carried in herself the qualities of the 'new man', one who finds himself in the center, one who connects the earthly existence with the spiritual world. For us, she was the role model".
On March 19, 1944, the Germans invaded Hungary and the deportation of the Jews began. The four friends had to return to Budapest. On the 3rd of June, Joseph was deported to an unknown destination, leaving Hanna inconsolable (TA). A little later a clergyman of good intentions, Father Klinda, asked Gitta to take over the management of a military uniform workshop employing around a hundred Jews as workers. Gitta accepted on condition that both Hanna and Lili could also be part of the Katalin workshop (TA).

The radiance


For the three friends the most important task was to ensure that the workshop functioned well. Gitta was a severe and feared commander: she had to be. Hanna and Lili endeavoured to maintain calm and to keep order in the disorderly environment.
Eva Danos
, one of the workers said:



Hanna Dallos, by Gitta Mallasz
(Courtesy of Dr Vera Dallos-Pinter)

"In the chaos of the overcrowded dormitory in the attic, Hanna's smiling blue eyes sent me a message of warm friendship, of encouragement and hope. There was a special aura about her and her friend Lili which I sensed and to which I felt attracted" (PW, p.14).

Hanna and Lili were radiant from the intensity of the meetings with the angels, which unfolded in the commander's shed which noone dared approach. Hanna was the guardian of everything, while Lili was responsible for the young ones, with whom she did relaxation gymnastics. So much so, that in spite of the anxious situation,

Ágnes Péter

(Ági) could write that "the atmosphere in Katalin was fantastic. We felt an extraordinary ease. One had no possessions – in the strictest sense absolutely nothing – and one didn't care". For her the time she spent there with Hanna, Lili and Gitta was "the happiest period of her life" (SB, V/7).

But at the end of 1944 the Nazi grip tightened. Horthy was forced to resign. This was the time of the Nyilas (Arrow Cross), Hungarian Nazis who spread terror all over Budapest. They were sniffing around the "workshop" too close for comfort. On the 5th of November, the first attempt to arrest the workers failed. The Nyilas returned on the 2nd of December. This time Gitta ordered the women to escape through the garden.


The sacrifice



Hanna and Lili did not try to flee. Convinced that it would fall to Gitta to acquaint the world with the "Encounters", and that Gitta would be shot when the Nyilas found out that everybody had escaped, Hanna and Lili let themselves be arrested together with a handful of women. The next day they were taken with the last convoy of Hungarian deportees (TA).
Hanna and Lili found themselves in Ravensbrück. With them were Eva Danos, the only one who would return, and Klara, a Hungarian woman with whom they formed a sharing relationship from the moment of arrival at the camp. In order to survive they stood together, slept in the same bunk beds and shared the same chores. Hanna was a great help. At her arrival they did not cut her luxuriant blond hair, which she took as a happy omen. Noticing her blue eyes, straight nose and golden hair, a guard even approached her and asked if she was an Aryan. Hanna responded that she was Jewish. Having been the messenger of the angels for seventeen months, she could not tell a lie.
In February, 1945, the four friends were "chosen" to work in an aeronautical factory in Burgau, a satellite camp of Dachau, 700 km to the South. Five hundred women were "selected". Before leaving the camp, they were taken to the showers where they had to wash themselves rapidly, urged by the whip. But, first of all, they had to pass the haircutter, and this time Hanna did not escape. Her head was shaved. When she lost her head of hair, Hanna also lost her mind. Her friends found her prostrate under the shower, her hand grasping a piece of soap. Hanna understood: never will she return to her country, nor will she find her husband, nor her family... For her it was the end. She completely lost her way. Hanna, the ultrasensitive messenger, lost her soul before physically dying, because at this stage it was too much for her to face up to the brutality of History.
With Lili, Klara and Eva, she was put in an overcrowded cattle car in which the women were inhumanely crammed together and physically fought with each-other. With practically nothing to eat nor drink, and excrement piling up, an SS woman whipped these unfortunates to keep them quiet. Hanna crouched for 13 days in this excrement, repeating over and over again: "What will become of me ? My hair has been cut off. I shall never get home". Hanna died on the night of the 1st of March, 1945, on a filthy floor somewhere in Eastern Germany, amid the total apocalypse of German defeat. It is ironic that her body was unloaded in Bayreuth, the center of Wagnerian music that Hitler valued so much... (PW)


Françoise Maupin


Translated from French by Dr Vera Dallos-Pinter




(1) Reform Judaism is one of the trends of progressive Judaism which appeared in Germany in the Age of Enlightenment. In Hungary Reform Jews constituted the oldest local Jewish stock. They were completely integrated into Hungarian society. Citizens since 1867, they could rise to the highest ranks of the Army (SB, II/1).

(2) Joseph Dallos, born in 1905, qualified as a doctor in 1928 and gained specialist registration as an ophthalmologist in 1933. He worked on the improvement of early contact lenses, first in Budapest, then in London where he settled in 1937 (DA, p. 247-248) and where he registered a patent with Zeiss. (http://www.andrewgasson.co.uk/pioneers_dallos.htm)

(3) Hanna's father, Sándor Dallos, was the brother of Joseph Kreutzer's mother.

(4) Testimony of Pierre Székely, sculptor, Vera Harsányi's fiancé at the time: "As far as I'm concerned, what was important in my life, was my meeting with Hanna. Immediately after matriculation, she became my master in the traditional sense of the word, in the sense of the word as used in Asia – in Europe such relationship between master and disciple is very rare – besides, she never said that she was our master. She was a friend, we were her friends".
Video testimony of Pierre Székely recorded by the USC Shoah Foundation, No. 40522, available at Mémorial de la Shoah, Paris.


Sources

(TA) Talking with Angels,

Daimon Verlag, Einsiedeln, 1988

(

Talking with Angels on Google Books)
(SB) Patrice Van Eersel,

La source blanche. L'étonnante histoire des Dialogues avec l'Ange

(The white well. The amazing story of Talking with Angels), Grasset, Paris, 1996 and Livre de poche
(AE)

Die Antwort der Engel

(German translation of Talking with Angels), Daimon Verlag, Einsiedeln, 1981 (Die Antwort der Engel on Google Books)
Lien avec book.google.com
(DV) Gitta Mallasz avec Françoise Maupin,

Les Dialogues tels que je les ai vécus

(The Dialogues as I lived them), Aubier, Paris, 1984
(PW) Eva Langley-Dános,

Prison on wheels

, Daimon Verlag, Einsiedeln, 2000 (Prison on wheels on Google Books)
(VM) Bernard Montaud, Patricia Montaud, et Lydia Müller,

La vie et la mort de Gitta Mallasz

(The life and the death of Gitta Mallasz), Dervy, Paris, 2001